Chris de Burgh at Centre 200!
Event Navigation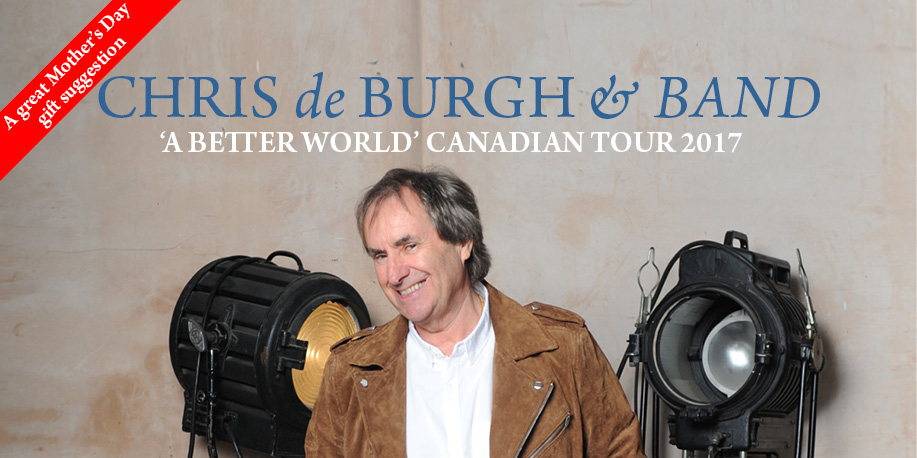 94.9 The Cape is pleased to present Chris de Burgh on September 18th at Centre 200!
Montreal, February 2, 2017 – Chris de Burgh comes to Sydney on Monday, September 18 at Centre 200 for a night of his greatest hits and live cuts from his brand new album, A Better World.
The A Better World Canadian Tour will stop in 16 Canadian cities starting in St. John's and ending in Calgary. Fans can expect to hear a selection of some of Chris de Burgh's greatest hit songs from an international career that spans over 30 years as well as some selections from his latest album, including the single "Bethlehem", which is a great reminder of what a great rocker he is at heart.
De Burgh has always had a very special relationship with Canada as he explains, "It was one of the first countries that really embraced my music, and the atmosphere of playing there is just electrifying. My music goes back a very long way there … the beautiful, wide open nation – and its wonderful people."
In June 2016, De Burgh's most iconic single "The Lady in Red," celebrated its 30th anniversary. A fan favourite, to this day it remains one of the most played songs on the planet and reached the #1 position in 47 countries. Out of his repertoire of more than 280 songs, De Burgh's other classic songs are staples on the radio: "Don't Pay the Ferryman", "Spanish Train", "Patricia the Stripper",
"High on Emotion" and"A Spaceman Came Traveling" speak to a generation of music lovers, who have rewarded him with sales of 50 million albums and sold-out performances worldwide.
A Better World, available in stores and on iTunes, reflects several themes: love, war and adventure, travel, discovery, and home-coming. It deals with the past, present, and the future in a combination of different styles, tempos, and instrumentation. Always in tune with global and political issues, Chris de Burgh provides much food for thought in the lyrical content of his new album.
Sydney – Monday, September 18, 2017 – Centre 200
Tickets starting at $59.50
Taxes included (+ applicable service charge)
Available online tickets.capebreton.ca
On sale February 10 at 12:00 pm