K.D. Lang
Event Navigation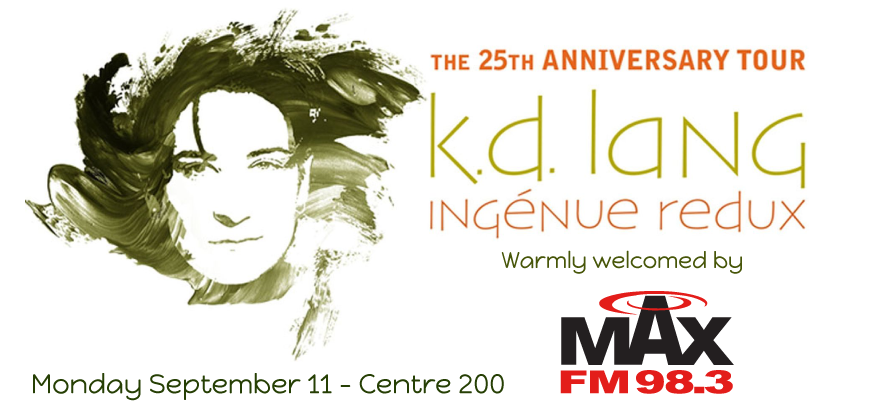 Sydney, NS – Monday September 11, 2017 – Centre 200
Tickets starting at $42.50
Taxes included (+ applicable service charge)
Available online www.Tickets.CapeBreton.ca
On sale March 3 at 10 am AST
On the 25th anniversary of her platinum selling Ingénue album and the huge hit "Constant Craving", which launched her into stardom around the world, k.d. lang is about to hit the road solo across Canada, coming to Sydney's Centre 200 September 11. Fans in 17 cities coast to coast, from Victoria, B.C. to St. John's, NL, will have the pleasure of experiencing lang live as she brings her singular singing style to classics from her 30 year repertoire. These memorable evenings take place from August 12 to September 19, 2017, in a tour presented by AEG Live.
After exploring different creative platforms in recent years, this unique and multi-talented performer is returning to the stage in celebration of her first love, promising to take her music to new heights on this brand new cross- Canada tour. Fans of the chanteuse won't want to miss this opportunity to catch lang live, in a rare treat that seldom comes along.
Tickets go on sale Friday, March 3 at 10am local time. Fan club members can purchase tickets during the presale beginning Thursday, March 2 at 10 am local time. Tickets are available at AEGLive.com.
2017 is a landmark year for lang, as it represents the 25th anniversary of the release of her
groundbreaking Ingénue album and the 150th anniversary of Canada. The convergence of these two anniversaries is momentous for the singer. Lang is an important part of the fabric of music in Canada, thanks to her original music, the music that's inspired her and the other artists that she has covered in her own unique renditions. As a result of her deep connection to Canadian music, she's been invited to be one of Canada's 150th Ambassadors.
Fans excited for the tour know she is renowned for her live shows, prompting the New York Times' Stephen Holden to observe: "Few singers command such perfection of pitch. Her voice, at once beautiful and unadorned and softened with a veil of smoke, invariably hits the middle of a note and remains there".
As part of this new tour lang will perform s o n g s f r om Ingénue along with hits from her 2004 album Hymns of the 49th Parallel, which featured lang singing the songs that define her country by fellow Canadians, including: Joni Mitchell, Leonard Cohen, Neil Young, Jane Siberry, Ron Sexsmith, and Bruce Cockburn.
After first appearing on stage as the cowgirl with the golden voice, she went on to become the crooner who sang "Constant Craving" and also achieved much success interpreting other artists' songs. Pervading all her interpretations is a sense of melancholy that lang manages to render with nuance and grace. Some of her most memorable recordings are the (now-iconic) rendition of Leonard Cohen's "Hallelujah", Roy Orbison's "Crying" and her collaboration with Tony Bennett on their 2002 Wonderful World duets album. She later joined Bennett for a successful co-headlining concert tour. He says of lang: "She's the best singer of her generation."
Branching out into uncharted territory isn't foreign to lang. In 2014, she guest-starred in the hit TV show Portlandia, playing an exaggerated version of herself. In 2015, the Alberta Ballet staged an original performance piece called Balletlujah!, based on the life and music of lang. The creative process and dance numbers were also turned into a film of the same name, featuring lang's participation, which aired on the CBC.
lang has recently been working with new collaborators: indie icon Neko Case and respected singer/songwriter Laura Veirs. The three joined forces to write and record the album case/lang/veirs, which was released in June 2016.
lang has won four GRAMMY® awards, eight Juno Awards, a BRIT, an AMA, a VMA, and four awards from GLAAD.
Some other noteworthy accomplishments:
• In 1996, she received Canada's highest civilian honor, the Order of Canada.
• In 2013, she was inducted into the Canadian Music Hall of Fame at the Juno Awards.
• In 2014, she was honoured with a Canada Post stamp.
• She received an honourary Doctorate of Fine Arts from the University of Regina (2013) and an honorary Doctorate of Laws degree from the University of Alberta (2008).
• In 2016, she was honoured by the Royal Conservatory of Music.
• She has appeared alongside such musical luminaries as Roy Orbison, Bonnie Raitt, Elton John, Loretta Lynn, and toured with Tony Bennett.